Once Again A Very Important Thought
Washington, June 10, 2013
Indonesia gifts U.S. a Saraswati statue
PTI A 16-foot statue of godess Saraswati was installed in Washington DC. It was recently gifted by Indonesia to the U.S. government .
"The statue symbolises values that parallel key principles of Indonesia-U.S. relations"
Indonesia, the country with the largest Muslim population in the world, has gifted an imposing 16-foot-high statue of Saraswati, the Hindu goddess of education and wisdom, to Washington DC.
The goddess' statue, on top of a lotus, stands tall a block away from the Indian Embassy in front of a statue of Mahatma Gandhi.
Hindus constitute just three per cent of the Indonesian population. A little over a mile from the White House, the statue is yet to be formally inaugurated, but has already become an attraction for city residents and large number of tourists who visit the city every day.
"Devi Saraswati is one of the Goddesses in Hinduism, the primarily practised religion among Balinese people in Indonesia, which itself is the world's biggest Muslim-majority country. Yet, her representation at the Indonesian Embassy was not decided out only of any religious grounds, but more on its symbolised values that parallel with several key principles of Indonesia-U.S. relations under comprehensive partnership, in particular education and people-to-people contact," a spokesperson at the Indonesian Embassy told PTI.
The construction of the statue began in mid-April, and was built by five native Balinese sculptors led by I. Nyoman Sudarwa, who wrapped up the job in five weeks.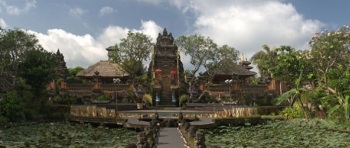 Sarswati temple in Bali, Indonesia
View comments(4)
A fitting message to all the pseudo-secularists who protest for anything associated with Hindu gods and goddesses. Here is a muslim dominated country gifting a statue of a Hindu Goddess - Saraswati associated with learning and knowledge to proclaimed Christian nation .Paradoxically we in India cannot put into practice any such sentiment for fear of hurting others sentiments .So much for our freedom of expression and tolerance of the majority !!
from: Ramani
Posted on: Jun 10, 2013 at 11:29 IST
I am not surprised at this gesture by the Indonesian Government. I have lived in Indonesia for few months & have traveled there many times. You will find the statue of Lord Ganesh in many places like hotel lobby etc. During one time, the 20,000 Rupiah note carried the image of Lord Ganesh in it. Not sure about it now.
In the city Centre of Jakarta you will find a huge statue depicting Geethopadesam, featuring Arjun, his rath, Lord Krishna etc. One can also find wooden carvings etc. depicting Ramayana, Mahabhratha in many places. Most Indonesian citizens know about Ramayana & Mahabharatha very well.
One never gets a feeling of alienation of being a Hindu when in Indonesia. They have high regards Indians & Indian culture.
from: V.Govindarajan
Posted on: Jun 10, 2013 at 11:18 IST
It is very commendable for Indonesia to put this statue of Devi Saraswathi in Washington. It symbolises the importance of knoweldge. India should learn from this incident. There is nothing worng to hilighting ones own culture. When Murali Mahohar Joshi was trying to impart some knowledge in Indian culture during NDA rule how much commotion was created by media!! Here between Indonesia and US we have a perfect example of secularism practiced